Nelle scorse settimane, Moverim ha partecipato a due eventi chiave organizzati dalla Commissione Europea rivolti ai potenziali candidati ai bandi Horizon Europe. Entrambi gli eventi avevano l'obiettivo di presentare le modalità di preparazione di proposte di successo, in particolare: 
– How to prepare a successful proposal in Horizon Europe ha avuto un focus particolare sugli aspetti relativi alla presentazione e valutazione dei progetti e ai termini posti dal Model Grant Agreement.
– A successful proposal for Horizon Europe: Scientific-technical excellence is key, but don't forget the other aspects ha fornito dettagli sugli aspetti importanti della policy europea, come la scienza aperta, la dimensione di genere o gli aspetti di disseminazione, exploitation e comunicazione.
Horizon Europe: il programma di ricerca e innovazione europea 2021-2027
Isabel Vergara e Bénédicte Charbonnel della Direzione Generale Ricerca e Innovazione (DG RTD), hanno aperto la serie di webinar riassumendo la struttura in tre pilastri di Horizon Europe e illustrando le modalità di presentazione di un progetto per il Programma di ricerca e innovazione europea (2021-2027).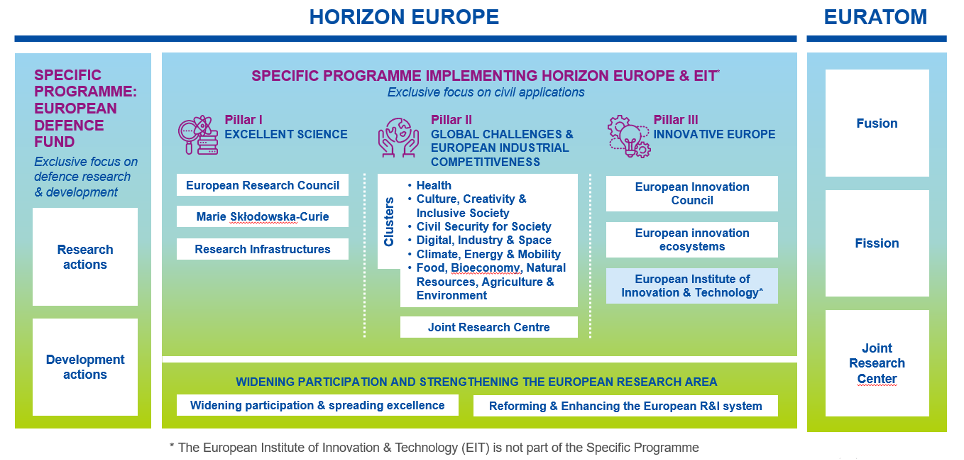 Le principali novità nel processo di presentazione delle proposte
Ciò che cambia rispetto al precedente programma quadro per la ricerca e l'innovazione H2020 riguarda principalmente i due criteri di ammissibilità ed eleggibilità dei progetti, nonché le tipologie di azioni finanziabili. 
Per quanto riguarda l'ammissibilità delle proposte presentate, rimangono le stesse condizioni generali di ammissibilità, mentre ne viene drasticamente ridotta la lunghezza. Le nuove indicazioni tecniche prevedono:
– Azioni RIAs e IAs: limite di 45 pagine per proposte complete
– CSAs: limite di 30 pagine
– First step: limite di 10 pagine
– EIC Pathfinder: limite di 17 pagine
La maggiore novità riguardo l'eleggibilità delle proposte presentate è senza dubbio il Piano per la parità di genere, che sarà applicabile a partire dal 2022. Questo prevede che i partecipanti, siano essi enti pubblici, organizzazioni di ricerca o di educazione con sede negli Stati membri o in Stati associati, devono avere un piano per la parità di genere che ricopra questi requisiti minimi:
– Auto-dichiarazione richiesta per la fase di proposta del progetto (per qualsiasi partecipante)
– Processo di validazione (basato su una autodichiarazione).
Venendo alle tipologie di azioni finanziabili, fermo restando che le condizioni specifiche saranno quelle descritte in ogni call, in linea generale sono finanziabili azioni che rientrano nei seguenti ambiti (descritti nella figura):
In base al tipo di azione, i contributi finanziari saranno così suddivisi:
Il nuovo processo valutativo
Nella valutazione delle proposte, rimangono invariati i criteri valutativi dei programmi Horizon 2020, basata su tre criteri:
Tuttavia, in fase di processo di valutazione, alle quattro fasi standard (riassunte nell'immagine sottostante), si aggiunge l'elemento "Reaction", ovvero il diritto di reazione (confutazione): questo passaggio ha l'obiettivo di aumentare la trasparenza e il dialogo, in quanto i partecipanti avranno la possibilità di inviare ulteriori precisazioni in riposta ai feedback e ai commenti dei valutatori del progetto, e questi ultimi terranno conto della reazione dei candidati prima di finalizzare la valutazione finale.
Il Model Grant Agreement
Le novità introdotte dal Model Grant Agreement (MGA) di Horizon Europe si concentrano principalmente su tre punti:
– L'approccio corporativo, adottato nell'ottica della semplificazione e dell'armonizzazione delle regole e dei processi europei. Infatti, questo nuovo modello contrattuale verrà applicato non solo in Horizon Europe, ma in tutti i programmi europei a gestione diretta finanziati nell'ambito del Quadro Finanziario Pluriennale (QFP), prendendo così il nome di "Corporate Model Grant Agreement". Per questo motivo, trattandosi di un modello "corporate", gli articoli del nuovo MGA non disciplinano tutti le componenti implementative di Horizon Europe, ma esclusivamente gli aspetti finanziari comuni a tutti i programmi nei quali troverà applicazione. Infatti, gli elementi caratterizzanti ciascuno di essi saranno definiti in un documento allegato al Corporate MGA (specific Annex 5).
– Disposizioni finanziarie semplificate che introducono un'unica formula di calcolo per quantificare i costi del personale, oltre che alla possibilità di accettare costi indiretti effettivi per beni e servizi fatturati internamente.
– Impegni richiesti in termini di libero accesso alle pubblicazioni scientifiche (Open Science) e di rispetto per i valori dell'Unione.
Aspetti di policy rilevanti
Su quest'ultimo punto, e più in generale sugli aspetti di policy rilevanti da considerare in fase di presentazione di un progetto Horizon Europe, ci si è concentrati specialmente nel corso del secondo webinar.
Approccio Open Science: Basato sul lavoro cooperativo e una sistematica condivisione delle conoscenze e degli strumenti durante il processo di ricerca, mira al coinvolgimento della società civile attraverso l'utilizzo di strumenti quali:
       – European Open Science Cloud
       – Criteri di aggiudicazione per le eccellenze
       – Supporto per le azioni politiche open science
       – Pubblicazione su Open Research Europe
Piano per la parità di genere (Gender Equality Plan) e Politiche di genere nella R&S: Il rispetto della parità di genere per il processo di R&S è un requisito obbligatorio ai fini della presentazione dei progetti di ricerca. Nello specifico, le aree tematiche da considerare a favore della parità di genere sono:
Impatto del progetto: è necessario dimostrare gli impatti concreti del progetto proposto.
Misure per massimizzare l'impatto: le misure devono essere proporzionali alla dimensione del progetto e devono contenere azioni concrete da implementare sia durante che dopo la fine del progetto, attraverso:
       – Misure pianificate
       – Individuazione di target groups
       – Policy feedback
       – Management della proprietà intellettuale

Rispetto del "Do no significant harm principle" (DNSH), ovvero minimizzare gli effetti collaterali: non sono ammessi danni significativi contro i sei obiettivi di protezione ambientale, che sono:



Intelligenza artificiale: la capacità tecnica dell'AI deve essere valutata secondo il criterio di eccellenza.