Moverim ha recentemente partecipato all'evento di lancio dedicato al programma di lavoro 2021 dello European Innovation Council (EIC), nell'ambito del nuovo programma quadro Horizon Europe. Lo scopo dello European Innovation Council, che prende le mosse dall'esperienza del programma pilota EIC in Horizon 2020, è sostenere ricercatori e innovatori nello sviluppo di tecnologie rivoluzionarie, ad alto rischio ed innovazioni ad alto contenuto tecnologico ("deep tech"). 
L'EIC sostiene tutte le fasi dell'innovazione, dalla ricerca di base necessaria allo sviluppo di tecnologie innovative, alla loro validazione, dimostrazione, introduzione nel mercato e allo scaling up di start up e PMI. Attraverso questo programma verranno soddisfatti degli indicatori chiave di performance (KPIs), che sono:
– Supporto ad aziende impegnate nel raggiungimento di obiettivi di sviluppo sostenibile;
– Co-investimenti e supporto a compagnie di 3/5 volte maggiore il livello di finanziamento EIC;
– Promozione dalla ricerca alla distribuzione di nuove tecnologie.
Programma di lavoro EIC 2021
Gli inviti a presentare proposte del work programme EIC si dividono in:
–Open funding: finanziamenti assegnati a progetti tramite inviti a presentare proposte senza priorità tematiche predefinite e aperti a innovazioni in qualsiasi campo scientifico, tecnologico o applicativo;
–Strategic Challenges: i progetti dovranno rispondere ad inviti a presentare proposte che rispondono a temi specifici.
I progetti dello European Innovation Council vengono supportati attraverso tre principali schemi di finanziamento:
• EIC Pathfinder: con sovvenzioni a sostegno della ricerca avanzata nei primi stadi di sviluppo;
• EIC Transition: supporta la trasformazione di risultati di progetti di ricerca precedentemente finanziati;
• EIC Accelerator: a sostegno di innovazioni rivoluzionarie proposte da PMI, start-up e imprese spin-out, attraverso un iter di candidatura semplificato.
Altri strumenti innovativi a sostegno dell'innovazione di cui si avvale EIC sono i premi che promuovono soluzioni che affrontano sfide particolarmente rilevanti, tra cui:
• EU Prize for Women Innovators
• European Capital of Innovation Awards
• European Innovation Procurement Awards
• European Social Innovation competition
Inoltre tutti i progetti e le imprese finanziate nell'ambito di EIC hanno la possibilità di accedere ad una serie di servizi, chiamati EIC Business Acceleration Services. Questi servizi mirano a garantire l'accesso a competenze, sostenere il contatto con potenziali investitori, l'emergere di innovazioni e la crescita di aziende di deep-tech di alto livello. Al fine di sfruttare ulteriormente gli investimenti EIC, ad ogni ricercatore, innovatore o imprenditore viene fornito l'accesso a una gamma di servizi di accelerazione del business EIC su misura (BAS) in qualsiasi fase di sviluppo delle attività e del ciclo di ricerca e innovazione di EIC.
EIC Pathfinder Open
L'invito a presentare proposte EIC Pathfinder Open 2021 finanzia lo sviluppo di tecnologie innovative emergenti in qualsiasi campo scientifico e tecnologico, con il potenziale di creare nuovi mercati e rispondere alle sfide globali. Supporta lo sviluppo di tecnologie future ad alto rischio/alto guadagno con un livello di maturità tecnologica (TRL) 1-4, ovvero le prime fasi di sviluppo tecnologico. La proposta di progetto deve soddisfare tre caratteristiche essenziali per essere considerata ammissibile:
• Visione lungo termine di una tecnologia radicalmente nuova con il potenziale di avere un effetto positivo di trasformazione per la nostra economia e società;
• Innovazione scientifica attraverso una tecnologia concreta e ambiziosa;
• Approccio e metodologia di ricerca ad alto rischio/alto guadagno con concreti obiettivi.
I risultati dei progetti devono includere pubblicazioni scientifiche a libero accesso.
A chi è rivolto
Per poter essere considerati eleggibili i consorzi devono coinvolgere almeno tre enti legali indipendenti (organizzazioni di ricerca, università, PMI, industria) con sede in almeno tre Stati membri o Paesi associati ad Horizon Europe.
Contributo
I progetti EIC Pathfinder Open possono ricevere finanziamenti fino a 3 milioni di euro. Sono inoltre eleggibili per ricevere ulteriori finanziamenti per testare il potenziale di innovazione dei loro risultati di ricerca.
Sarà possibile presentare candidature dall'8 aprile al 19 maggio 2021.
EIC Pathfinder Challenges
Gli inviti a presentare proposte EIC Pathfinder Challenges mirano a supportare lo sviluppo di soluzioni scientifiche e tecnologiche che rispondano a sfide specifiche. Con ogni finanziamento per sfide specifiche, individuate e gestite da un EIC Programme Manager, l'EIC stabilirà un portafoglio di progetti che esploreranno diverse prospettive, approcci concorrenti o aspetti complementari e richiederanno collaborazioni multidisciplinari. Gli obiettivi specifici delle proposte dovranno riguardare:
-Sensibilizzazione interna;
-Strumenti per misurare e stimolare l'attività nel tessuto cerebrale;
-Tecnologie emergenti nella terapia genica;
-Nuove vie per la produzione di idrogeno;
-Materiali viventi ingegnerizzati.
A chi sono rivolti
Possono presentare progetti nell'ambito di EIC Pathfinder Challenges sia consorzi, sia singole entità legali. Nel caso di consorzi, questi dovranno essere composti da un minimo di due entità legali indipendenti stabilite in due diversi Stati membri o Paesi associati, mentre nel caso di consorzi di 3 o più entità legali, almeno una di queste deve essere stabilita in uno Stato membro o Paese associato. Nel caso in cui il progetto sia presentato da un'unica entità legale, questa non può essere un'impresa a media o grande capitalizzazione.
Linee guida specifiche per ciascuno dei 5 inviti a presentare proposte "Strategic Challenges" saranno pubblicati a giugno quando si aprirà la possibilità di presentare progetti. Questi bandi, infatti, apriranno il 15 giugno 2021 e sarà possibile presentare progetti fino al 27 ottobre 2021.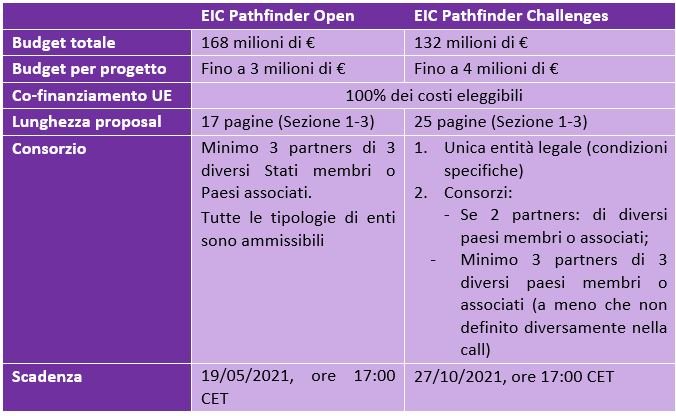 EIC Transition
Gli inviti a presentare proposte EIC Transition sosterranno lo sviluppo di una nuova tecnologia a partire dai risultati di progetti precedenti e l'utilizzo di nuove metodologie per aumentare la possibilità di successo dell'innovazione nel mercato.
I progetti EIC Transition dovranno occuparsi della maturazione e della convalida di nuove tecnologie in laboratorio e in ambienti applicativi permanenti e dello sviluppo di un modello per la futura commercializzazione dell'innovazione. L'obiettivo è quello di accrescere la maturità tecnologica fino ad un TRL da 5 a 6 e allo stesso tempo aumentare la commercializzazione e l'implementazione sul mercato di tali innovazioni. 
A chi è rivolto
I bandi si rivolgono ad applicanti singoli (PMI, spin-off, start-up, enti di ricerca, università) o piccoli consorzi (da 2 a 5 partner). Per il 2021 le candidature sono limitate alle applicazioni basate sui risultati generati dai progetti europei finanziati nell'ambito di:
–Progetti EIC Pathfinder (inclusi progetti finanziati da EIC pilot Pathfinder, FET Open, FET Proactive, FET Flagships e FET ERANET)
–Progetti Proof of Concept dello European Research Council (ERC).
Contributo
Sovvenzioni fino a 2,5 milioni di euro per convalidare e dimostrare la propria tecnologia in un ambiente di applicazione (TRL da 4 a 5/6) e sviluppare la capacità di mercato.
La scadenza per presentare i progetti è il 22 settembre 2021.
EIC Transition Open
I finanziamenti saranno assegnati attraverso inviti a presentare proposte senza priorità tematiche predefinite. Sarà consentito il sostegno a qualsiasi tecnologia e innovazione che coinvolge diversi campi scientifici, tecnologici e applicativi.
EIC Transition Challenges
A differenza dei finanziamenti Transition Open, EIC Transition Challenges sosterrà progetti che mirino a sfruttare i risultati eccezionali di un progetto in corso o terminato di recente su temi specifici. Anche in questo caso ci saranno degli EIC Programme Managers che supervisioneranno ogni Transition Challenge, stabilendo gli obiettivi strategici e guidando attivamente il portafoglio verso gli obiettivi. Possono essere presentate proposte per finanziare progetti nell'ambito di due distinte calls:
-Dispositivi medici;
-Raccolta di energia e immagazzinamento tecnologie.

EIC Accelerator
Il bando EIC Accelerator Open sostiene start-up e PMI nello sviluppo di innovazioni ad alto impatto con il potenziale di creare nuovi mercati o cambiare radicalmente quelli esistenti. Si incoraggia particolarmente la presentazione di progetti da parte di start-up o PMI guidate da donne.
EIC Accelerator Open fornisce un sostegno finanziario attraverso una combinazione unica di finanziamenti:
-Finanziamenti a fondo perduto da 0,5 fino a 2,5 milioni di euro per coprire fino al 70% dei costi di sviluppo e la convalida della tecnologia (TRL 5/6 – 8);
–Investimenti fino a 15 milioni di euro gestiti dall'EIC Fund per lo scale up dell'innovazione e servizi di accelerazione delle imprese.
Chi può applicare
Singole start-up e PMI (inclusi gli spin-out), individui (che intendono lanciare una start-up/PMI) e in casi eccezionali piccole mid-cap (meno di 500 dipendenti).
Come avviene la presentazione di proposte
Sarà possibile presentare una proposta progettuale nell'ambito di EIC Accelerator in qualsiasi momento attraverso la nuova piattaforma EIC AI Platform. Per la short application sarà necessario predisporre una presentazione in slides, un video pitch e rispondere ad una serie di domande sulla propria innovazione e sul team aziendale. La Commissione darà un feedback entro 4 settimane, e se la short application soddisfa i criteri base per il finanziamento dell'EIC Accelerator l'impresa sarà invitata a preparare la full application da presentare in una delle scadenze previste.
EIC Accelerator Open e Challenges
Come tutti gli altri strumenti EIC, anche l'EIC Accelerator prevede un bando Open, senza priorità tematiche predefinite, e un bando Accelerator Challenges che finanzierà progetti in ambiti tecnologici specifici predefiniti dalla Commissione. L'EIC Accelerator Challenges è aperto alle innovazioni nei campi specifici di:
• Strategic Digital and Health Technologies
• Green Deal innovations for the Economic Recovery